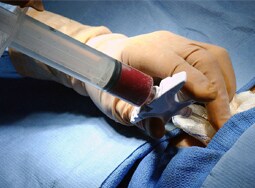 Allogeneic bone marrow transplantation or stem cell transplantation is currently the only proven cure for CML. Ideally, it should be performed in the chronic phase of the disease rather than in the transformation phase or in blast crisis. Candidate patients should be offered the procedure if a matched or single-antigen–mismatched related donor is available. In general, younger patients fare better than older patients. Bone marrow transplantation should be considered early in young patients (< 55 years) who have a matched sibling donor. All siblings should be typed for human leukocyte antigen (HLA)-A, HLA-B, and HLA-DR. If no match is available, the HLA type can be entered into a bone marrow registry for a completely matched unrelated donor.
For more on the treatment of CML, read here.
Medscape © 2016 WebMD, LLC

Any views expressed above are the author's own and do not necessarily reflect the views of WebMD or Medscape.
Cite this: Emmanuel C. Besa. Fast Five Quiz: How Much Do You Know About Chronic Myelogenous Leukemia? - Medscape - Aug 15, 2016.