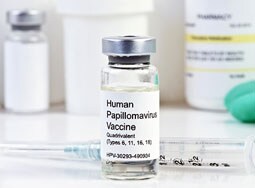 Three doses of HPV vaccine protect against HPV infection and the potential for HPV to cause cervical, vulvar, vaginal, penile, oropharyngeal, anal, and rectal cancers. The CDC recommends immunization at age 11-12 years, with immunization in individuals as young as age 9 years if a history of sexual abuse is noted. The vaccine may be administered to individuals through age 26 years. The three vaccines available for HPV prevention in the United States include a bivalent vaccine (covers types 16 and 18 in girls), a quadrivalent vaccine (covers types 6, 11, 16, and 18 in boys and girls), and a nonavalent vaccine (covers types 6, 11, 16, 18, 31, 33, 45, 52, and 58 in boys and girls). An average of 38,793 HPV-associated cancers (11.7 per 100,000 persons) were diagnosed annually in the United States during 2008-2012, including 23,000 (13.5) among females and 15,793 (9.7) among males. Among these cancers, the CDC estimates that 30,700 (79%) can be attributed to HPV, and 28,500 of these are attributable to HPV types that are preventable with the 9-valent HPV vaccine.
For more on HPV, read here.
Medscape © 2016 WebMD, LLC

Any views expressed above are the author's own and do not necessarily reflect the views of WebMD or Medscape.
Cite this: Mary L. Windle. Fast Five Quiz: Do You Know Current Vaccination Recommendations? - Medscape - Aug 22, 2016.