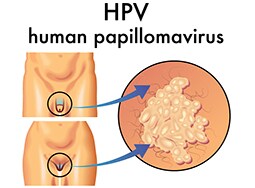 Cryosurgery is an effective means of treating simple HPV disease. It decreases the concentration of HPV and eliminates the trigger that enables the development of cancer. Multiple treatments may be required. This method is effective for most simple cutaneous warts and for low-grade cervical intraepithelial neoplasia. The primary drawbacks of the procedure are discomfort, ulceration, and scabbing at the treatment site. The recurrence rate (10%) is similar to that of electrosurgery.
Warts on the shaft of the penis and vulva respond very well to cryotherapy. Cryotherapy of the rectum is painful and less successful. Cryotherapy is not recommended for use in the vagina because the depth of ablation cannot be controlled and damage to adjacent structures, such as the bladder and rectum, is possible. Because cryotherapy does not result in any systemic absorption, it is safe for women who are pregnant during the second and third trimesters of pregnancy, as well as for the fetus.
For more on the treatment of HPV, read here.
Medscape © 2020 WebMD, LLC

Any views expressed above are the author's own and do not necessarily reflect the views of WebMD or Medscape.
Cite this: Michael Stuart Bronze. Fast Five Quiz: Are You Familiar With These Sexually Transmitted Diseases? - Medscape - Apr 09, 2020.