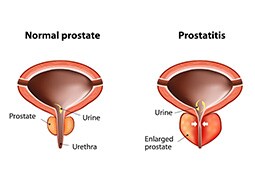 One study of men with chronic prostatitis/chronic pelvic pain syndrome found that the odds ratio for premature ejaculation significantly increased with the severity of pelvic pain. Other organic causes of premature ejaculation may be present as well; clinicians should search for medical causes before initiating other approaches to treatment.
The time to climax in females averages about 12-25 minutes, so in cases of severely delayed female orgasm—3 hours, for example—almost any male would be considered to have premature ejaculation. This represents one of the paradoxes of the disorder: The problem involves the partner.
The presence of pre-ejaculate fluid is sometimes mistaken for premature ejaculation. A detailed medical case history should clarify this error. Topical anesthetics (lidocaine and prilocaine) may be effective in reducing penile sensitivity and delaying ejaculation.
To learn more about diagnosing premature ejaculation, read here.
Medscape © 2016 WebMD, LLC

Any views expressed above are the author's own and do not necessarily reflect the views of WebMD or Medscape.
Cite this: Stephen Soreff. Psychiatry Fast Five Quiz: How Much Do You Know About Premature Ejaculation? - Medscape - Dec 28, 2016.