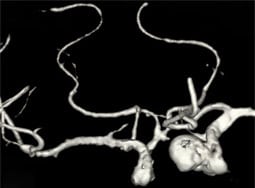 Causes of excess IGF-I action can be divided into the following three categories:
Release of primary GH excess from the pituitary

Increased GHRH secretion or hypothalamic dysregulation

Hypothetically, the excessive production of IGF-binding protein, which prolongs the half-life of circulating IGF-I
By far, most people with gigantism or acromegaly have GH-secreting pituitary adenomas or hyperplasia. Other causes of increased and unregulated GH production, all very rare, include increased GHRH from hypothalamic tumors, ectopic GHRH from nonendocrine tumors, and ectopic GH secretion by nonendocrine tumors.
Learn more about the etiology of acromegaly.
Medscape © 2020 WebMD, LLC

Any views expressed above are the author's own and do not necessarily reflect the views of WebMD or Medscape.
Cite this: Romesh Khardori. Fast Five Quiz: Test Your Knowledge of Acromegaly - Medscape - Sep 16, 2020.