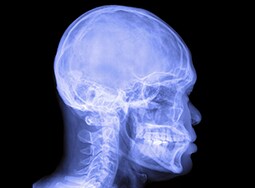 Conventional radiography is the most commonly used imaging study. It is simple, evaluates bony structures, and in most cases is sufficient. It involves specific techniques and views, such as modified Schuller views of each TMJ, both open-mouth and closed-mouth. Radiographic findings in TMJ depend on the etiology of TMD; in cases of rheumatoid arthritis and seronegative spondyloarthropathies, plain films show erosions, osteophytes, subchondral bony sclerosis, and condylar-glenoid fossa remodeling.
Dynamic high-resolution ultrasonography allows for visualization of the morphologic elements and the functions of the TMJ, articular disk, mandibular condyle, and lateral pterygoid muscle. It is useful in the evaluation of internal derangements of the TMJ.
CT scans can explore both bony structures and muscular soft tissues. Specifically, cone beam CT (CBCT) can aid in the diagnosis of osteoarthritis, rheumatoid arthritis, synovial chondromatosis, and neoplastic disorders.
MRI should be used as the study of choice if an articular or meniscal pathology is suspected and an endoscopic or surgical procedure is contemplated, or in the case of traumatic TMD.
For more on the workup of TMD, read here.
Medscape © 2017 WebMD, LLC

Any views expressed above are the author's own and do not necessarily reflect the views of WebMD or Medscape.
Cite this: Amy Kao. Fast Five Quiz: Test Yourself on Temporomandibular Disorder - Medscape - Mar 01, 2017.