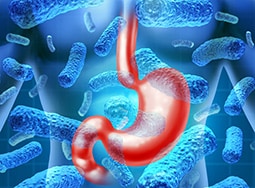 Diarrhea is defined as daily stools with a mass greater than 15 g/kg for children younger than 2 years and greater than 200 g for children 2 years or older. Adult stool patterns vary from one stool every 3 days to three stools per day; therefore, consider individual stool patterns. Consistency, color, volume, and frequency are very important in determining whether the stool source is from the small or large bowel.
For a complete table of stool characteristics and sources in bacterial gastroenteritis, read here.
Medscape © 2017 WebMD, LLC

Any views expressed above are the author's own and do not necessarily reflect the views of WebMD or Medscape.
Cite this: Richard H. Sinert, Mary L. Windle, Michael Stuart Bronze, et. al. Fast Five Quiz: Can You Answer These Challenging Emergency Medicine Questions? - Medscape - Mar 09, 2017.