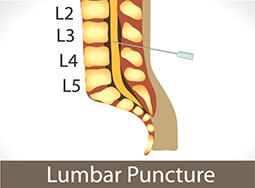 Lumbar puncture should be performed in patients suspected of having neurosyphilis with no contraindication. No single test is available for the definitive diagnosis of neurosyphilis; rather, the clinical symptoms, serology, and cerebrospinal fluid (CSF) values (CSF cell count or protein and a reactive CSF-VDRL) must be used in combination to determine the diagnosis.
In suspected acquired syphilis, the traditional approach has been first to perform nontreponemal serology screening using the VDRL, rapid plasma reagin (RPR), or ICE Syphilis (Murex® Diagnostics; San Nicolas, Pangasinan, Philippines) recombinant antigen test. The sensitivity of the VDRL and RPR tests is estimated to be 78%-86% for detecting primary syphilis, 100% for secondary syphilis, and 95%-98% for tertiary syphilis. Specificity ranges from 85% to 99% and may be reduced in individuals who have coexisting conditions (ie, collagen vascular disease, pregnancy, intravenous drug use, advanced cancer, tuberculosis, malaria, or viral and rickettsial diseases).
FTA-ABS is commonly used as a confirmatory test after positive results on the VDRL or RPR test. Dark-field microscopy is a possible mode of evaluating moist cutaneous lesions, such as the chancre of primary syphilis or the condyloma lata of secondary syphilis. If dark-field microscopy is not available, direct immunofluorescence staining of fixed smears is an option.
For more on the workup of syphilis, read here.
Medscape © 2017 WebMD, LLC

Any views expressed above are the author's own and do not necessarily reflect the views of WebMD or Medscape.
Cite this: Richard H. Sinert, Mary L. Windle, Michael Stuart Bronze, et. al. Fast Five Quiz: Can You Answer These Challenging Emergency Medicine Questions? - Medscape - Mar 09, 2017.