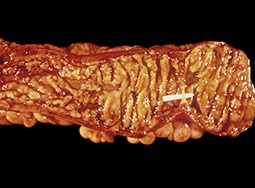 Ileocolonoscopy is a highly sensitive and specific tool for the diagnosis and treatment of patients with suspected or established inflammatory bowel disease. The procedure is useful for tissue sampling and differential diagnosis, evaluation of mass lesions, and cancer surveillance.
Crohn disease is initially diagnosed on the basis of a combination of clinical, laboratory, histologic, and radiologic findings. Laboratory study results are generally nonspecific but may be helpful in supporting the diagnosis and evaluating response to treatment.
Overall, enteroclysis is reserved for complicated cases. This imaging modality is roughly as accurate as SBFT and has a shorter examination time; however, the peroral SBFT examination uses less total room and radiologist time, decreases radiation exposure, and is more tolerable for patients.
Nuclear imaging studies are not considered to be the tests of choice: MRI, CT, and endoscopic examination of the mucosa for active disease are preferred.
For more on the workup of Crohn disease, read here.
Medscape © 2017

Cite this: Jamie Shalkow. Fast Five Quiz: Test Yourself on Crohn Disease - Medscape - Mar 14, 2017.