Fluoroscopy can be useful in foreign body removal if a C-arm or other appropriate imaging equipment is accessible. This technique allows for real-time radiographic visualization of the foreign body and affords the clinician the opportunity to precisely locate the foreign body using skin markers.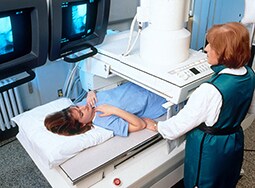 X-rays are most useful in detecting radiopaque foreign bodies with sensitivities above 95% with adequate penetration and multiple views (anteroposterior and lateral). However, for the detection of nonradiopaque foreign bodies (eg, wood, rubber, plastic, and other plant-based foreign bodies), the sensitivity of radiography is low.
The use of bedside ultrasonography to detect and localize soft tissue foreign bodies in the emergency department (ED) is gaining in acceptance and popularity because of its ease of use, increased availability, lack of radiation exposure, safety, and sensitivity with detection of certain types of foreign bodies.
MRI is rarely used for foreign body detection during the initial ED visit. However, MRI can provide detailed information regarding tissue inflammatory reactions, osteoblastic or osteolytic changes, and secondary tissue reactions that can aid in determining the presence and location of an otherwise occult foreign body.
For more on the imaging of foreign bodies in soft tissue injuries, read here.
Medscape © 2017 WebMD, LLC

Any views expressed above are the author's own and do not necessarily reflect the views of WebMD or Medscape.
Cite this: Richard H. Sinert. Fast Five Quiz: Are You Prepared to Confront Foreign Bodies in Patients? - Medscape - Apr 28, 2017.