Only lateral views are needed for the initial screening of stability. Three views are obtained for the basic evaluation: anteroposterior, lateral, and odontoid. Five views, including the three basic views plus bilateral oblique views, are used to evaluate the intervertebral foramen.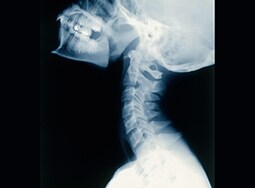 MRI is unable to reliably depict sources of cervical discogenic pain because significant annular tears often escape MRI detection. CT scanning may be performed if detailed bony imaging is indicated, such as when a fracture or instability is a concern. CT scanning may be used as an alternative to MRI in patients with claustrophobia, although disc imaging with CT scanning offers low resolution.
CT myelography is an invasive imaging study that may be useful for a detailed analysis if plain CT scanning and MRI do not provide a definitive answer regarding the suspected pathology. The degree of concordance between CT myelography and MRI is only moderately good; discrepancies are noted especially in the differentiation of disc and bony pathology.
For more on the workup of neck pain, read here.
Medscape © 2017 WebMD, LLC

Any views expressed above are the author's own and do not necessarily reflect the views of WebMD or Medscape.
Cite this: Fast Five Quiz: Test Yourself on Key Aspects of Neck Pain - Medscape - Aug 10, 2017.