A prolonged latent phase is not indicative of dystocia in itself because this diagnosis cannot be made in the latent phase.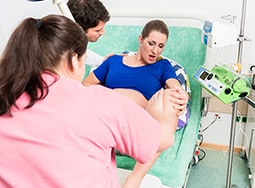 For those in the latent phase, the treatment of choice is rest for several hours. During this interval, uterine activity, fetal status, and cervical effacement must be evaluated to determine whether progress to the active phase has occurred. Approximately 85% of patients treated in this manner progress to the active phase. Approximately 10% will cease to have contractions, and the diagnosis of false labor may be made. For the approximately 5% of patients in whom therapeutic rest fails and in patients for whom expeditious delivery is indicated, oxytocin infusion may be used.
Limited studies have shown improvement in dysfunctional labor with use of a beta-blocker. In cases of dysfunctional labor resulting from functional dystocia or an abnormal uterine contractility pattern, and in which oxytocin implementation has not improved the outcome, a beta-blocker may be considered.
A protocol called active management of labor can be applied to nulliparous women with singleton cephalic presentations at term. This method involves the use of high-dose oxytocin, with a starting rate of 6 mU/min and increasing by 6 mU/min every 15 minutes to a maximum of 42 mU/min. This is in contrast to the most common oxytocin algorithms used in hospitals in the United States, which typically involve increasing the oxytocin dose 1-2 mU/min every 30-40 minutes.
Amniotomy is often used and has become an accepted practice once the patient has reached the active phase of labor, although it has not been shown to result in shorter labor. This practice is not recommended in the latent phase of labor because it may only serve to increase the risk for intrauterine infection or cord prolapse.
For more on the treatment of patients with abnormal labor, read here.
Medscape © 2017 WebMD, LLC

Any views expressed above are the author's own and do not necessarily reflect the views of WebMD or Medscape.
Cite this: Fast Five Quiz: Test Your Knowledge of Normal and Abnormal Labor and Delivery - Medscape - Aug 21, 2017.