For conjunctivitis associated with molluscum contagiosum, disease will persist until the skin lesion is treated. Removal of the central core of the lesion or inducement of bleeding within the lesion usually is enough to cure the infection. Occasionally, surgical excision is required.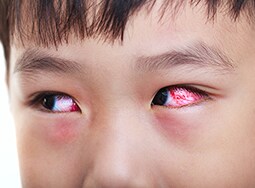 No oral antiviral candidates are under consideration as antiadenoviral therapeutics, nor does any evidence suggest that oral antiherpetic drugs have any effect on ocular adenoviral disease.
Topical vasoconstrictors and antihistamines may be used for severe itching but generally are not indicated because they are minimally helpful and may cause rebounding of symptoms, as well as local toxicity and hypersensitivity. Topical corticosteroids are not usually indicated for conjunctivitis or keratitis.
For more on the treatment of conjunctivitis, read here.
Medscape © 2017

Any views expressed above are the author's own and do not necessarily reflect the views of WebMD or Medscape.
Cite this: Fast Five Quiz: Are You Familiar With Common Illnesses in Schoolchildren? - Medscape - Aug 29, 2017.