Dry eye disease is essentially a clinical diagnosis, made by combining information obtained from the history and from the physical examination and performing one or more diagnostic tests to lend additional objectivity to the diagnosis. No single test is sufficiently specific to permit an absolute diagnosis of dry eye disease.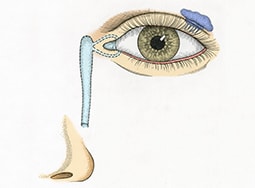 Tear breakup time is determined by measuring the interval between instillation of fluorescein and appearance of the first dry spots on the cornea. Measure it prior to instillation of any anesthetic eye drops. A fluorescein strip is moistened with saline and applied to the inferior cul-de-sac. After several blinks, the tear film is examined using a broad-beam slit lamp with a blue filter for the appearance of the first dry spots on the cornea. Decreased tear breakup time of less than 10 seconds is considered abnormal and indicative of tear instability. Several devices can measure the tear breakup time objectively, including the Oculus Keratograph® 5M (Oculus, Inc.; Wetzlar, Germany).
At this time, the most comprehensive criteria for a diagnosis of Sjögren syndrome include the following:
Abnormally low Schirmer test result

Objective evidence of low salivary flow

Biopsy-proven lymphocytic infiltration of the labial salivary glands

Dysfunction of the immune system, as manifested by the presence of serum autoantibodies (eg, antinuclear antibody, rheumatoid factor, and anti-Ro [SS-A] and anti-La [SS-B] antibodies)
Early or mild cases of dry eye disease are detected more easily with rose bengal or lissamine than with fluorescein staining, and the conjunctiva is usually stained more intensely than the cornea.
For more on the workup of dry eye disease, read here.
Medscape © 2017 WebMD, LLC

Any views expressed above are the author's own and do not necessarily reflect the views of WebMD or Medscape.
Cite this: Fast Five Quiz: Are You Familiar With Dry Eye Disease? - Medscape - Sep 29, 2017.