The dependence of endometriosis on the woman's cyclic production of menstrual cycle hormones provides the basis for medical therapy. Medications currently recommended include gonadotropin-releasing hormone (GnRH) agonists, progestins, oral contraceptive pills, and androgens. Each of these interrupts the normal cyclic production of reproductive hormones. Surgical efforts are aimed at removal of the endometrial implants and correction of anatomic distortions. In women who wish to preserve their reproductive potential, the rates of recurrent pain symptoms are 44% with surgical management and 53% with medical management.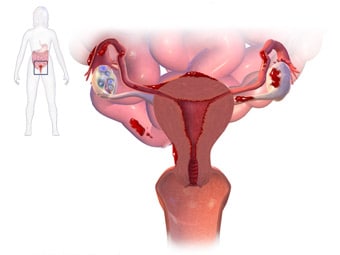 For patients with mild disease, postoperative adjunctive hormonal treatment has been shown to be effective in reducing pain but has no impact on fertility. GnRH analogs, danazol, and medroxyprogesterone have all been found to be useful for this indication. However, for severe endometriosis, the efficacy of preoperative or postoperative hormonal treatment has not yet been established.
Medical treatment of minimal or mild endometriosis has not been shown to increase pregnancy rates. Moderate to severe endometriosis should be treated surgically.
Based on results from controlled prospective studies, no evidence indicates that endometriosis is associated with recurrent pregnancy loss, and no evidence indicates that medical or surgical treatment of endometriosis reduces the spontaneous abortion rate.
NSAIDs have not been shown to have any benefit in placebo-controlled trials.
For more on the treatment of endometriosis, read here.
Medscape © 2017 WebMD, LLC

Any views expressed above are the author's own and do not necessarily reflect the views of WebMD or Medscape.
Cite this: Michel E. Rivlin. Fast Five Quiz: Key Aspects of Endometriosis - Medscape - Oct 23, 2017.