Studies have reported significantly elevated relative risk among family members of persons with binge-eating disorder, and data from twin studies indicated a range of heritability estimates from 41% to 57%.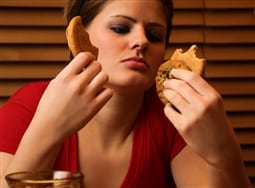 Binge-eating disorder was added as a distinct disorder in the DSM-5 after extensive research supported its clinical use and validity. The significant difference from the preliminary DSM-IV criteria required for diagnosis included a minimum average frequency from at least twice weekly for 6 months to at least once weekly over the preceding 3 months. Binge-eating disorder can also include night eating with resultant weight gain, but by definition does not include the use of vomiting or medications, such as laxatives, emetics, or diuretics.
In a study of a large cohort of adolescents and young adults, the prevalence of overeating or binge eating increased with age and peaked at 3.2% at age 19 years; it was more common among females than males, with 2.3%-3.1% of females and 0.3%-1% of males reporting binge eating between age 16 and 24 years.
For more on binge-eating disorder, read here.
Medscape © 2017 WebMD, LLC

Any views expressed above are the author's own and do not necessarily reflect the views of WebMD or Medscape.
Cite this: Stephen Soreff. Fast Five Quiz: Test Your Knowledge of Binge-Eating Disorder - Medscape - Nov 08, 2017.