Obliteration of the lateral sulcus or seminal vesical involvement found during rectal examination often indicates locally advanced disease. Physical examination findings of adenopathy, lower-extremity edema, and bony tenderness may indicate metastatic disease. Advanced prostate cancer results from any combination of lymphatic, blood, or contiguous local spread. Manifestations of metastatic and advanced disease may include the following: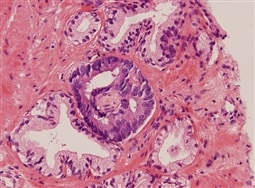 Anemia

Bone marrow suppression

Weight loss

Pathologic fractures

Spinal cord compression

Pain

Hematuria

Ureteral and/or bladder outlet obstruction

Urinary retention

Chronic renal failure

Urinary incontinence

Symptoms related to bony or soft-tissue metastases
The Whitmore-Jewett classification of stages A-D is no longer widely used. Prostate cancer does not necessarily progress in a sequential manner.
Transitional cell carcinoma and sarcoma of the prostate are more common in men who have undergone previous pelvic radiation therapy for prostate cancer than in men who have not. Likewise, squamous cell carcinoma of the prostate may be observed in men treated with hormonal therapy. All of these can present as a large pelvic mass with or without metastases.
For more on the presentation of advanced prostate cancer, read here.
Medscape © 2017 WebMD, LLC

Any views expressed above are the author's own and do not necessarily reflect the views of WebMD or Medscape.
Cite this: Bradley Schwartz. Fast Five Quiz: Test Your Knowledge of Advanced Prostate Cancer - Medscape - Nov 16, 2017.