If the neutropenic patient's fever does not respond within 4-5 days or if the fever recurs with the administration of broad-spectrum antibiotics after an initial afebrile interval, consider adding empiric antifungal coverage with amphotericin B (preferably lipid formulation), a broad-spectrum azole (eg, voriconazole), or an echinocandin (eg, caspofungin).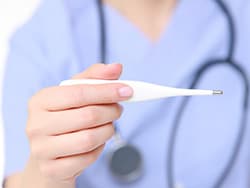 General measures to be taken include the following:
Removal of any offending drugs or agents is the most important step in most cases involving drug exposure; if the identity of the causative agent is not known, stop administration of all drugs until the etiology is established

Use careful oral hygiene to prevent infections of the mucosa and teeth; control oral and gingival lesion pain with saline and hydrogen peroxide rinses and local anesthetic gels and gargles

Avoid rectal temperature measurements and rectal examinations

Administer stool softeners for constipation

Use good skin care for wounds and abrasions; skin infections should be managed by someone with experience in the treatment of infection in neutropenic patients
An American Society of Clinical Oncology guideline on the use of WBC growth factors includes the following strong recommendations based on high-quality evidence:
Primary prophylaxis with a CSF, starting with the first chemotherapy cycle and continuing through subsequent cycles, in patients who have an approximately 20% or higher risk for febrile neutropenia

Primary CSF prophylaxis in patients receiving dose-dense chemotherapy, when considered appropriate; consideration should be given to alternative, equally effective, and safe chemotherapy regimens not requiring CSF support when available

Secondary prophylaxis with a CSF for patients who experienced a neutropenic complication from a prior cycle of chemotherapy (for which primary prophylaxis was not received), in which a reduced dose or treatment delay may compromise disease-free or overall survival or treatment outcome (in many clinical situations, dose reduction or delay may be a reasonable alternative)

CSFs should not be routinely used for patients with neutropenia who are afebrile

CSFs should not be routinely used as adjunctive treatment with antibiotic therapy for patients with fever and neutropenia; however, CSFs should be considered in patients with fever and neutropenia who are at high risk for infection-associated complications or who have prognostic factors predictive of poor clinical outcomes
Neutrophil (granulocyte) transfusions have undergone a cycle of popularity followed by disfavor. These transfusions are accompanied by many complications, including severe febrile reactions. Their use is controversial. Although disappearing from clinical practice, granulocyte transfusions have some clinical usefulness in treating neonatal sepsis. Their usefulness in adults with neutropenia, in whom adequate increments of WBC counts are difficult to achieve, has not been demonstrated in randomized clinical trials. Granulocyte transfusion could be considered in cases of gram-negative sepsis with no improvement in 24-48 hours.
For more on the treatment of neutropenia, read here.
Medscape © 2017 WebMD, LLC

Any views expressed above are the author's own and do not necessarily reflect the views of WebMD or Medscape.
Cite this: Elwyn C. Cabebe. Fast Five Quiz: How Much Do You Know About Neutropenia? - Medscape - Nov 22, 2017.