Typically, a patient experiences one or two cluster periods per year, each lasting 2 weeks to 3 months.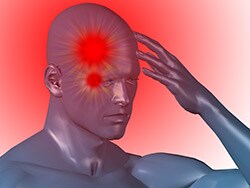 The IHS classifies cluster headache as episodic or chronic on the basis of duration, as follows:
Episodic cluster headache occurs in periods lasting from 7 days to 1 year; cluster attacks are separated by pain-free intervals at least 3 months long

Chronic cluster headache persists for more than 1 year either without remission or with remissions shorter than 3 months; it may be de novo or evolve from episodic cluster headache
According to the diagnostic criteria developed by the IHS, cluster headache has the following characteristics:
The patient experiences attacks of severe or very severe, strictly unilateral pain (orbital, supraorbital, or temporal pain) that last 15-180 minutes and occur from once every other day to eight times a day

The attacks are associated with a sense of restlessness or agitation and/or one or more of the following (all ipsilateral): conjunctival injection and/or lacrimation, nasal congestion and/or rhinorrhea, forehead and facial sweating, miosis and/or ptosis, and eyelid edema
About 80% of patients with episodic cluster headache maintain the episodic form of the disorder. In 4%-13%, episodic cluster headache eventually transforms into chronic cluster headache. Intermediate (mixed) forms may also develop.
During an attack of cluster headache, as many as 90% of patients may become agitated and extremely restless. They do not like to lie down to rest; instead, they prefer to pace or move around. In desperation, patients may rock, sit, pace, bang themselves against a hard surface, scream in pain, or crawl on the floor.
For more on cluster headaches, read here.
Medscape © 2017 WebMD, LLC

Any views expressed above are the author's own and do not necessarily reflect the views of WebMD or Medscape.
Cite this: Amy Kao. Fast Five Quiz: Test Your Clinical Knowledge of Various Types of Headaches - Medscape - Nov 30, 2017.