5-Hydroxytryptamine-1 (5-HT1) receptor agonists, such as triptans or ergot alkaloids with metoclopramide, are often the first line of acute treatment. Stimulation of 5-HT1 receptors produces a direct vasoconstrictive effect and may abort the attack. Sumatriptan, a serotonin 5-HT1 receptor agonist that causes vasoconstriction, among other actions, is effective in aborting migraine (about 70% efficacy in adults) and cluster headaches.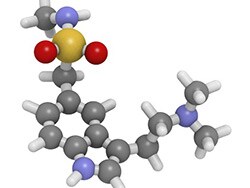 Calcium-channel blockers may be the most effective agents for cluster headache prophylaxis. A few relatively small controlled studies have found anticonvulsants (eg, topiramate and divalproex) to be effective in the prophylaxis of cluster headache, although the mechanism of action remains unclear.
No good scientific evidence supports the use of tricyclic agents or cyproheptadine in the pediatric population, but many clinicians have used these medications with success over decades. A randomized, double-blind trial found no significant difference in decreased frequency or headache-related disability, but increased adverse events, in children and adolescents treated with amitriptyline, topiramate, or placebo. However, a decrease of at least 50% in the number of headache days was shown in 52% of patients treated with amitriptyline, 55% treated with topiramate, and 61% given placebo. Beta-blockers are commonly used as prophylactic therapy for adult migraine; propranolol and nadolol are effective.
In 2018, the US Food Administration (FDA) approved 3 calcitonin gene-related peptide antagonists for the preventive treatment of migraine in adults, including erenumab, fremanezumab, and galcanezumab.
Deep brain stimulation with implantation of stimulating electrodes under stereotactic guidance into the ipsilateral posterior inferior hypothalamus is another potential option for chronic headaches that are refractory to pharmacologic therapy. This technique is invasive and is associated with significant risk for complications, including intracranial hemorrhage. Other serious side effects are subcutaneous infection, micturition syncope, and transient loss of consciousness.
Percutaneous radiofrequency ablation may achieve success in 50% of patients, with fair to good results in 20% and failure in about 30%. Side effects include facial dysesthesia, corneal sensory loss, and anesthesia dolorosa.
Other devices approved by the FDA include a transcranial magnetic stimulator (to treat pain of migraine preceded by aura), a transcutaneous trigeminal nerve stimulator (for prevention of migraine and acute treatment of migraine with or without aura), and a noninvasive vagus nerve stimulator (for episodic cluster headache and acute migraine pain).
For more on the treatment of headaches, read here.
Medscape © 2017 WebMD, LLC

Any views expressed above are the author's own and do not necessarily reflect the views of WebMD or Medscape.
Cite this: Amy Kao. Fast Five Quiz: Test Your Clinical Knowledge of Various Types of Headaches - Medscape - Nov 30, 2017.