Overall, S aureus infection is the most common cause of infective endocarditis, including PVE, acute infective endocarditis, and IVDA infective endocarditis. Approximately 35%-60.5% of staphylococcal bacteremias are complicated by infective endocarditis. More than one half of all cases are not associated with underlying valvular disease.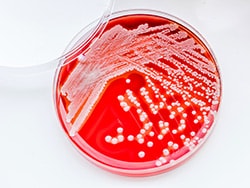 The mortality rate of S aureus infective endocarditis is 40%-50%. S aureus infection is the second most common cause of nosocomial bloodstream infections, second only to coagulase-negative staphylococci infection.
The following are the main underlying causes of NVE:
Rheumatic valvular disease (30% of NVE)—primarily involves the mitral valve, followed by the aortic valve

Congenital heart disease (15% of NVE)—underlying etiologies include a patent ductus arteriosus, ventricular septal defect, tetralogy of Fallot, or any native or surgical high-flow lesion

Mitral valve prolapse with an associated murmur (20% of NVE)

Degenerative heart disease, including calcific aortic stenosis due to a bicuspid valve, Marfan syndrome, or syphilitic disease
Early PVE, which presents shortly after surgery, has a different bacteriology and prognosis from that of late PVE, which presents in a subacute fashion similar to NVE. Infection associated with aortic valve prostheses is particularly associated with local abscess and fistula formation, and valvular dehiscence. This may lead to shock, heart failure, heart block, shunting of blood to the right atrium, pericardial tamponade, and embolization to the central nervous system and elsewhere.
S aureus is the most common (< 50% of cases) etiologic organism in patients with IVDA infective endocarditis. Methicillin-resistant S aureus (MRSA) accounts for an increasing portion of S aureus infections and has been associated with previous hospitalizations, long-term addiction, and unprescribed antibiotic use. Groups A, C, and G streptococci and enterococci are also recovered from patients with IVDA infective endocarditis. Currently, gram-negative organisms are involved infrequently. P aeruginosa and the HACEK family are the most common examples.
For more on the etiology of infective endocarditis, read here.
Medscape © 2017 WebMD, LLC

Any views expressed above are the author's own and do not necessarily reflect the views of WebMD or Medscape.
Cite this: Michael Stuart Bronze. Fast Five Quiz: Refresh Your Knowledge on Key Aspects of Infective Endocarditis - Medscape - Dec 05, 2017.