The criterion standard test for diagnosing infective endocarditis is documentation of continuous bacteremia (>30 minutes) on the basis of blood culture results. Although blood cultures remain key in making the diagnosis of infective endocarditis, the need for indirect diagnostic techniques that are both specific and sensitive is increasing. This is because the nature of valvular infections has changed over the years. The number of fastidious organisms has increased, and the rate of the classic peripheral stigmata of infective endocarditis is much lower. Patients who are elderly, chronically ill, or immunosuppressed are often afebrile and do not mount a significant fever or exhibit the classic stigmata of valvular infection.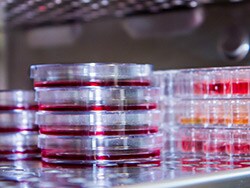 Because S aureus can produce endotheliosis, the presence of a continuous bacteremia does not necessarily imply an infected valvular vegetation.
Anemia is common in subacute endocarditis. Leukocytosis is observed in acute endocarditis. Erythrocyte sedimentation rate, although not specific, is elevated in more than 90% of cases. Decreased C3, C4, and CH50 are evident in subacute endocarditis.
Echocardiography has become the indirect diagnostic method of choice, especially in patients who present with a clinical picture of infective endocarditis but have nondiagnostic blood culture results (eg, some patients with fungal endocarditis). The diagnosis of infective endocarditis can never be excluded on the basis of negative echocardiogram findings, either from transthoracic echocardiography or transesophageal echocardiography.
For more on the workup of infective endocarditis, read here.
Medscape © 2017 WebMD, LLC

Any views expressed above are the author's own and do not necessarily reflect the views of WebMD or Medscape.
Cite this: Michael Stuart Bronze. Fast Five Quiz: Refresh Your Knowledge on Key Aspects of Infective Endocarditis - Medscape - Dec 05, 2017.