Most patients with mild traumatic brain injury recover in 48-72 hours, even with detailed neuropsychological testing, and are headache free within 2-4 weeks of the injury. Obtain a more detailed history of emotional, concentration, and associated symptoms for patients who have persistent symptoms that last longer than 1 week.
The first 10 days after a concussion appears to be the period of greatest risk for being diagnosed with another concussion.
No association between epidural hematoma and brain injury is recognized. This condition classically presents with a brief period of unconsciousness, followed by a lucid period, and then a subsequent deterioration over 15-30 minutes. Tearing of the middle meningeal artery secondary to an associated temporal skull fracture is the usual cause of an epidural hematoma.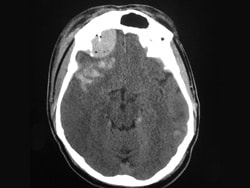 Postconcussive syndrome consists of prolonged symptoms that are related to the initial head injury. Unfortunately, the severity of the concussion does not necessarily predict who will experience prolonged symptoms. Similarly, the number of concussions is not necessarily predictive of future problems.
For more on the complications associated with concussions, read here.
Medscape © 2017 WebMD, LLC

Any views expressed above are the author's own and do not necessarily reflect the views of WebMD or Medscape.
Cite this: Richard H. Sinert. Fast Five Quiz: Are You Prepared to Confront Holiday Decorating Injuries? - Medscape - Dec 05, 2017.