Symptoms of withdrawal include difficulty concentrating, nervousness, headaches, weight gain due to increased appetite, decreased heart rate, insomnia, irritability, and depression. These symptoms peak in the first few days but eventually disappear within a month.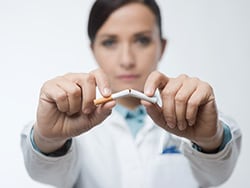 The time to first cigarette and total cigarettes per day are the two strongest predictors of nicotine addiction.
Tobacco use by itself is not considered a significant risk factor for suicide. However, concomitant disorders such as depression and anxiety do, in and by themselves, increase the risk for suicide. The clinician should inquire about the patient's safety and probe further if the patient endorses suicidal ideation. The clinician should attempt to determine whether the suicidal ideation has matured to include a plan and, if so, what factors either aggravate or mitigate the patient's propensity to convert ideation to an actual attempt.
As a general rule, nicotine does not produce perceptual or thought disorders, such as visual hallucinations or delusions. However, 75%-90% of persons with schizophrenia also smoke.
The use of nicotine should not negatively affect memory, the ability to perform simple calculations, abstract thinking, or judgment. Tobacco use disorders should not cause delirium or dementia. However, in elderly individuals, nicotine use increases mental decline.
For more on the presentation of nicotine addiction, read here.
Medscape © 2017 WebMD, LLC

Any views expressed above are the author's own and do not necessarily reflect the views of WebMD or Medscape.
Cite this: Stephen Soreff. Fast Five Quiz: Test Your Knowledge About Nicotine Addiction and Cessation - Medscape - Dec 08, 2017.