A patient with hypertensive emergency typically has retinal papilledema, as well as flame-shaped hemorrhages and exudates. Other clinical features may include encephalopathy, confusion, left ventricular failure, intravascular coagulation, and impaired renal function, with hematuria and weight loss.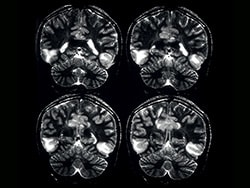 Hypertensive urgencies are asymptomatic elevations of BP and do not require intravenous (IV) antihypertensive therapy; they often do not require laboratory studies, ECG, or radiologic testing, only oral antihypertensive medication.
The cardiac presentation of patients with hypertensive emergency may involve angina and/or myocardial infarction, congestive heart failure, or pulmonary edema. Orthostatic symptoms may be prominent. The heart's initial response to systemic hypertension is to develop concentric left ventricular hypertrophy. Eventually, the left ventricle becomes dilatated. This is reflected on physical examination by a fourth heart sound initially, followed by the typical changes of dilated cardiomyopathy.
Neurologic presentations may include occipital headache, cerebral infarction or hemorrhage, visual disturbance, and hypertensive encephalopathy (a symptom complex of severe hypertension, headache, vomiting, visual disturbance, mental status changes, seizure, and retinopathy with papilledema). Focal signs and symptoms are uncommon and may indicate another process, such as cerebral infarct or hemorrhage.
For more on the workup of hypertensive emergencies, read here.
Medscape © 2018 WebMD, LLC

Any views expressed above are the author's own and do not necessarily reflect the views of WebMD or Medscape.
Cite this: Richard H. Sinert. Fast Five Quiz: Review Key Information on Hypertensive Emergencies - Medscape - Jan 02, 2018.