Sodium nitroprusside is a commonly used medication. It is a short-acting agent, and the BP response can be titrated from minute to minute. However, patients must have constant monitoring in an intensive care unit. The potential exists for thiocyanate and cyanide toxicity with prolonged use or if the patient has renal or hepatic failure. Other IV antihypertensive regimens are available for specific hypertensive emergencies. For example, nitroprusside, nitroglycerin, or fenoldopam may be used in myocardial infarction; however, for aortic dissection, esmolol should be added. In patients with pre-eclampsia or eclampsia, magnesium and hydralazine are superior choices. The medications used depend on the specific circumstances.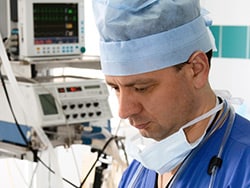 Acutely lowering BP in the ED for clinical situations other than those listed below is controversial and generally should be avoided. In pediatric hypertension, in the absence of hypertensive target organ damage, diet and exercise are used to treat stage I hypertension, followed by the addition of drug therapy if they are unsuccessful.
In the presence of stage I hypertension with end-organ damage and stage II hypertension, management includes lifestyle changes and pharmacotherapy with angiotensin-converting enzyme (ACE) inhibitors, calcium-channel blockers, or thiazide diuretics. Hypertensive emergency with end-organ effects requires immediate, modest BP reduction with cardiac class IV medications. Gradual lowering of the BP is crucial to prevent cerebral ischemia as a result of autoregulatory mechanisms. Severe hypertension in pregnant women should be treated immediately to prevent maternal end-organ damage.
For more on the treatment of hypertensive emergencies, read here.
Medscape © 2018 WebMD, LLC

Any views expressed above are the author's own and do not necessarily reflect the views of WebMD or Medscape.
Cite this: Richard H. Sinert. Fast Five Quiz: Review Key Information on Hypertensive Emergencies - Medscape - Jan 02, 2018.