The preferred medications in patients with preeclampsia or eclampsia include labetalol and nifedipine. Avoid nitroprusside, angiotensin-converting enzyme inhibitors, and esmolol. In women with eclampsia or preeclampsia, the systolic BP should be < 160 mm Hg and the diastolic BP should be < 110 mm Hg in the antepartum and intrapartum periods. If the platelet count is less than 100,000 cells/mm3, the BP should be maintained < 150/100 mm Hg. Patients with eclampsia or preeclampsia should also be treated with intravenous magnesium sulfate to avoid seizures.
Alpha-adrenergic antagonists (phentolamine) are the preferred agents for cocaine-associated acute coronary syndromes. Pheochromocytoma treatment guidelines are similar to that of cocaine toxicity. Only after alpha blockade can beta-blockers be added for BP control.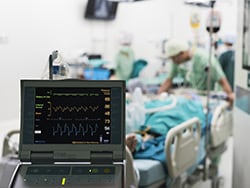 For acute intracerebral hemorrhage, the preferred medications are labetalol, nicardipine, and esmolol; avoid nitroprusside and hydralazine. The treatment is based on clinical/radiographic evidence of increased intracranial pressure.
In aortic dissection, the preferred medications are labetalol, nicardipine, nitroprusside (with beta-blocker), esmolol, and morphine sulfate. However, avoid beta-blockers if aortic valvular regurgitation or suspected cardiac tamponade is present.
For more on the treatment of neurologic and cardiac emergencies in patients with hypertensive emergencies, read here.
Medscape © 2018 WebMD, LLC

Any views expressed above are the author's own and do not necessarily reflect the views of WebMD or Medscape.
Cite this: Richard H. Sinert. Fast Five Quiz: Review Key Information on Hypertensive Emergencies - Medscape - Jan 02, 2018.