Most patients with liposarcoma have no symptoms until the tumor is large and impinges on neighboring structures, causing tenderness, pain, or functional disturbances. In the retroperitoneal area, where liposarcoma is often detected at a late stage, the tumor may grow to a substantial size, weighing several pounds at the time of diagnosis. In general, liposarcoma grows silently, and the patient's estimation of the clinical duration is often unreliable. The patient eventually becomes aware of a swelling or a mass and reports this finding to the physician.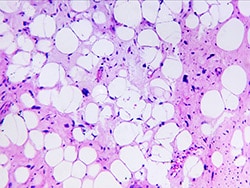 Liposarcomas are most commonly found in the extremities; in the retroperitoneum; and, less often, in the head and neck. These tumors are more likely to arise from deep-seated, well-vascularized adipose structures than from submucosal or subcutaneous fat. The primary histologic variants are well-differentiated/dedifferentiated, myxoid/round cell, and pleomorphic. Each histologic variant has a wide range of biologic potential. Most (95%) myxoid/round cell liposarcomas have a characteristic cytogenetic t(12;16)(q13;p11) abnormality, yielding the FUS-CHOP gene fusion. In adults, they are usually evident as a deep-seated mass in the lower extremity but may less commonly be first evident as a primary subcutaneous mass.
Liposarcomas of all subtypes can occur in the cutis and the subcutis; however, their primary occurrence in the skin is rare. Clinically, all liposarcomas in the skin tend to grow in an exophytic manner, presenting as either dome-shaped or polypoid lesions. In all patients, the neoplasm is centered in the dermis, and it has a minimal tendency to grow downward into the underlying subcutaneous adipose tissue.
For more on the presentation of liposarcoma, read here.
Medscape © 2018 WebMD, LLC

Any views expressed above are the author's own and do not necessarily reflect the views of WebMD or Medscape.
Cite this: Fast Five Quiz: Test Your Knowledge of Soft-Tissue Sarcomas - Medscape - Jan 03, 2018.