First published in 1965, the Zung SDS is a short, 20-item self-administered screening test for depression. The goal of this tool is to provide a quick, inclusive assessment. Ten of the 20 statements listed are positively worded, and the other 10 statements are negatively worded. This scale has been used in clinical research to monitor treatment and as a screening tool in general practice.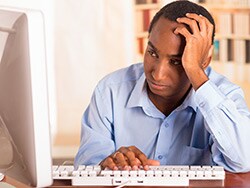 Developed in 1961 by psychiatrist Aaron Beck and based on common symptoms he observed while treating patients with depression, the BDI is the most widely used self-rating scale. The BDI consists of 21 items regarding emotional, behavioral, and somatic symptoms. This short assessment, which takes 5-10 minutes to administer, has been shown effective in identifying patients with major depression. One study, by Steer and colleagues, found a 97% sensitivity and a 99% specificity rate for identifying patients with major depression. This test can also be used to monitor a patient's progress in moving out of a depression.
Developed in the late 1950s by psychiatrist Max Hamilton and published in 1960, the HDRS is the most widely used interview scale to measure the severity of depression in the inpatient population. Several other versions based on the original HDRS have been developed, including structured interview guides, self-report forms, and computerized versions. The scale contains a relatively large number of somatic symptoms and relatively few cognitive or affective symptoms.
The PHQ is a self-administered tool consisting of two (PHQ2) or nine (PHQ9) items. A PHQ2 score > 3 had a sensitivity of 83% and a specificity of 92% for major depression. The PHQ9 establishes the clinical diagnosis of depression and can additionally be used to track the severity of symptoms over time. The cut point indicating depression is a score of ≥ 10, which has a sensitivity of 88% and a specificity of 88% for major depression. Many primary care clinicians have found this test easy to administer, effective, and useful in detecting depression.
The MDI is a self-rating scale used for the diagnosis or measurement of depression. The sensitivity of the MDI algorithms is between 86% and 92%, whereas the specificity is between 82% and 86%.
An important advantage to utilizing the aforementioned self-assessment tools in clinical practice is that it allows the provider to obtain information about a patient's mental health that is often not addressed during the average office visit due to time constraints. In addition, these assessment tools also help the patients to think "psychologically" about their lives. Some individuals gain insight and begin to understand that they may be depressed. The tests promote patient engagement and participation in the diagnosis and treatment process.
For more on depression screening, read here.
Medscape © 2019 WebMD, LLC

Any views expressed above are the author's own and do not necessarily reflect the views of WebMD or Medscape.
Cite this: Stephen Soreff. Fast Five Quiz: Are You Familiar With These Conditions Associated With Depression? - Medscape - Dec 16, 2019.