Measure total creatine kinase concentrations to check for rhabdomyolysis, which is occasionally associated with severe caffeine toxicity. A creatine kinase concentration greater than five times the upper limit of normal indicates clinically significant rhabdomyolysis. Include the creatine kinase-MB fraction and troponin level if myocardial ischemia is suspected.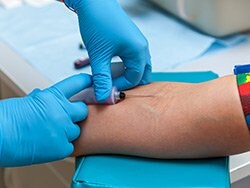 Patients with only mild symptoms without any hemodynamic instability do not require imaging studies. Caffeine tests are generally only available at reference or research laboratories and are not clinically useful. Serum theophylline concentrations are more rapidly and widely available than caffeine determinations. Because theophylline is a minor metabolite of caffeine, a positive theophylline assay may be helpful in confirming suspected caffeine toxicity. Patients with severe caffeine toxicity have had serum theophylline concentrations in the therapeutic range (10-20 mg/L).
For more on the workup of caffeine toxicity, read here.
Medscape © 2018 WebMD, LLC

Any views expressed above are the author's own and do not necessarily reflect the views of WebMD or Medscape.
Cite this: Richard H. Sinert. Fast Five Quiz: Test Your Knowledge of Caffeine Consumption, Toxicity, and Overdose - Medscape - Jan 26, 2018.