A size difference of >3 cm3 is considered significant. The average volume of the male testis is 23 ± 3 cm3, and standardized tables show the reference ranges for appropriate testis volume at different stages of development.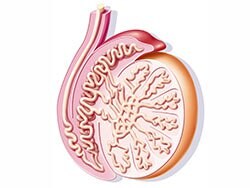 A patient with a varicocele is usually asymptomatic and often seeks an evaluation for infertility after failed attempts at conception. The patient is examined in the standing position, and the scrotum is visually inspected for distended veins, which can usually be seen on the lateral aspect of the scrotum. The testes, spermatic cord, and scrotum are palpated, and testicular size is assessed with an orchidometer. A small varicocele may feel like a thickened spermatic cord; a larger one has been said to feel like a bag of worms.
The physician should then ask the patient to perform a Valsalva maneuver, which distends the veins of the pampiniform plexus and accentuates physical findings. This is a necessary adjunct, albeit one that is often omitted in the primary care setting, for helping the clinician detect subtle changes in the pampiniform plexus that can facilitate the diagnosis of a varicocele. Next, examine the patient in a supine position. The venous dilation of the varicocele should diminish. Consider an obstructive etiology if this does not occur.
The orchidometer can be a reliable method of assessing testicular size, with good interobserver variability; however, compared with ultrasonography, it may be inaccurate in distinguishing a testis volume differential of less than 50%.
For more on the presentation and physical examination of varicocele, read here.
Medscape © 2018 WebMD, LLC

Any views expressed above are the author's own and do not necessarily reflect the views of WebMD or Medscape.
Cite this: Bradley Schwartz. Fast Five Quiz: Test Your Knowledge of Varicoceles - Medscape - Mar 06, 2018.