Comorbid conditions that may place the patient at a higher risk for infection or its sequelae include the following: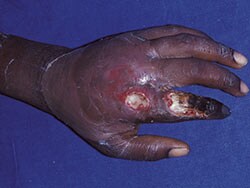 Diabetes

Chronic edema of the region (eg, prior ipsilateral axillary node dissection for an upper extremity wound)

Prior splenectomy

Liver disease

Immunosuppression

Presence of a prosthetic valve or joint

Regional arterial or venous disease
Adequate examination of the wound may require administration of IV or oral pain medication to ensure patient comfort. Examine hand injuries through the full range of hand motions, particularly in the case of clenched-fist injuries. Physicians must be wary of any laceration overlying the MCP joint. Additionally, carefully assess bite wounds of the fingers for deeper penetration into the tendon apparatus. Extending the wound may be necessary to fully evaluate underlying structures and the extent of the injury.
All bite marks in a young child should raise suspicion of abuse. The normal intercanine distance of an adult is 2.5-4 cm. Therefore, any human bite marks with an intercanine distance over 3 cm were likely inflicted by an adult.
For more on the presentation and physical examination of patients with human bite wounds, read here.
Medscape © 2018 WebMD, LLC

Any views expressed above are the author's own and do not necessarily reflect the views of WebMD or Medscape.
Cite this: Richard H. Sinert. Fast Five Quiz: Test Your Knowledge on Key Aspects of Human Bite Wounds - Medscape - Apr 02, 2018.