The use of commercially available forms of nicotine replacement therapy (eg, patch, nasal spray, tablets/lozenges, gum, inhaler) increases the rate of smoking cessation by 50%-70%, regardless of setting and independent of intensity of additional support provided to the individual. Although helpful, support is not essential to the success of nicotine replacement therapies.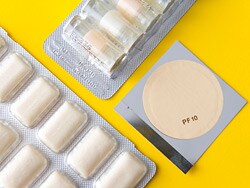 Moderate alcohol consumption (1-2 drinks per day) is associated with reduced overall and coronary heart disease-related mortality compared with both abstinence and heavy drinking.
Although several observational studies and one randomized, controlled secondary prevention trial reported reduced CVD in patients taking large amounts of antioxidant vitamins, no benefit for 400 and 300 IU/d of vitamin E, respectively, was found in the Heart Outcomes Prevention Evaluation (HOPE) study, the Gruppo Italiano per lo Studio Della Sopravvivenza Nell'Infarto Miocardico (GISSI)-Prevention report, and Heart Protection Study findings.
Initiate low-dose aspirin for individuals aged 50-59 years who have the following features (grade B recommendation):
Have a 10-year atherosclerotic CVD risk of 10% or greater

Are not at increased bleeding risk

Have a life expectancy of 10 years or longer

Are willing to take daily low-dose aspirin for at least 10 years
For more on recommendations associated with CVD risk management, read here.
Medscape © 2018 WebMD, LLC

Any views expressed above are the author's own and do not necessarily reflect the views of WebMD or Medscape.
Cite this: Yasmine S. Ali. Fast Five Quiz: How Much Do You Know About Cardiovascular Risk Factors? - Medscape - Apr 13, 2018.