Typically, patients present a few days after the onset of a viral respiratory illness, following exposure to a potent allergen or irritant, or after exercise in a cold environment. Frequently, patients have underused or have been underprescribed anti-inflammatory therapy. Illicit drug use may play a role in poor adherence to anti-inflammatory therapy.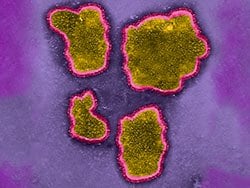 In the early stages of acute asthma, hyperventilation may result in respiratory alkalosis. This is because obstructed lung units (slow compartment) are relatively less numerous than unobstructed lung units (fast compartment). Hyperventilation allows carbon dioxide removal via the fast compartment. However, as the disease progresses and more lung units become obstructed, an increase in the slow compartments occurs, resulting in decreased ability for carbon dioxide removal and eventually causing hypercarbia.
Asthma and status asthmaticus prevalence is higher among children, women, black individuals, and persons with reported income below the federal poverty level.
For more on the etiology and epidemiology of status asthmaticus, read here.
Medscape © 2018 WebMD, LLC

Any views expressed above are the author's own and do not necessarily reflect the views of WebMD or Medscape.
Cite this: Zab Mosenifar. Fast Five Quiz: Are You Familiar With Key Components of Status Asthmaticus? - Medscape - Apr 23, 2018.