The four stages of status asthmaticus are based on ABG progressions. Patients in stage 1 or 2 may be admitted to the hospital, depending on the severity of their dyspnea, their ability to use accessory muscles, and their PEF values or forced expiratory volume in 1 second (FEV1) after treatment (>50% but <70% of predicted values).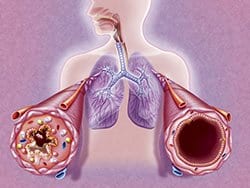 Patients with ABG determinations characteristic of stages 3 and 4 require admission to an ICU. The PEF value or FEV1 is less than 50% of the predicted value after treatment.
Patients in stage 1 status asthmaticus are not hypoxemic, but they are hyperventilating and have a normal PO2. Data suggest that to possibly facilitate hospital discharge, these patients may benefit from ipratropium treatment via a handheld nebulizer in the emergency setting as an adjunct to beta-agonists.
Stage 2 is similar to stage 1, but patients are hyperventilating and hypoxemic. Such patients may still be discharged from the emergency department, depending on their response to bronchodilator treatment, but will require systemic corticosteroids.
Patients with stage 3 status asthmaticus are generally ill and have a normal PCO2 due to respiratory muscle fatigue. Their PCO2 is considered a false-normal value and is a very serious sign of fatigue that signals a need for expanded care. This is generally an indication for elective intubation and mechanical ventilation, and these patients require admission to an ICU. Parenteral corticosteroids are indicated, as is the continued aggressive use of an inhaled beta2-adrenergic bronchodilator. These patients may benefit from theophylline.
Stage 4 is a very serious stage in which the PO2 is low and the PCO2 is high, signifying respiratory failure. These patients have less than 20% of predicted lung function or FEV1 and require intubation and mechanical ventilation. Patients in stage 4 should be admitted to an ICU. Switching from inhaled beta2-agonists and anticholinergics to metered-dose inhalers via mechanical ventilator tubing is indicated. Parenteral corticosteroids are essential, and theophylline may be added, as with patients in stage 3.
For more on staging in patients with status asthmaticus, read here.
Medscape © 2018 WebMD, LLC

Any views expressed above are the author's own and do not necessarily reflect the views of WebMD or Medscape.
Cite this: Zab Mosenifar. Fast Five Quiz: Are You Familiar With Key Components of Status Asthmaticus? - Medscape - Apr 23, 2018.