Imaging studies of the salivary glands are usually unnecessary for the assessment of small tumors within the parotid or submandibular gland. CT scanning or MRI is useful for determining the extent of large tumors, for evaluating extraglandular extension, for determining the actual depth of parotid tumors, and for discovering other tumors in one gland or in the contralateral gland. Additionally, CT scanning and MRI are helpful in distinguishing an intraparotid deep-lobe tumor from a parapharyngeal space tumor and for evaluation of cervical lymph nodes for metastasis.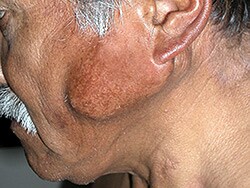 Among salivary gland neoplasms, 80% arise in the parotid glands, 10%-15% arise in the submandibular glands, and the remainder arise in the sublingual and minor salivary glands. The most common tumor of the parotid gland is the pleomorphic adenoma, which represents about 60% of all parotid neoplasms.
Radiation therapy is rarely the definitive treatment modality for salivary gland neoplasms, being used alone usually for tumors that are considered nonresectable. More studies have quantified the use of radiation therapy in the postoperative setting.
For more on salivary gland neoplasms, read here.
Medscape © 2018 WebMD, LLC

Any views expressed above are the author's own and do not necessarily reflect the views of WebMD or Medscape.
Cite this: Elwyn C. Cabebe. Fast Five Quiz: Can You Identify and Properly Treat Worrisome Neck Masses? - Medscape - May 01, 2018.