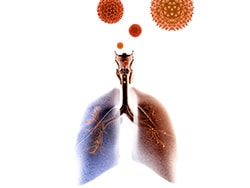 Asthma attacks are triggered by allergies in 50% of adults and 60%-90% of children. Most people with asthma have aeroallergen-induced symptoms, though some individuals' symptoms manifest with nonallergic triggers. Aeroallergen triggers include dust mites, mold spores, pollen, animal allergens, and food, particularly in children. The importance of allergy in asthma has been well established. For example, exposure to dust mites in the first year of life is associated with later development of asthma and possibly atopy. Mite and cockroach antigens are common, and exposure and sensitization have been shown to increase asthma morbidity.
Environmental exposure in sensitized individuals induces airway inflammation, a hallmark finding in the asthmatic lung. Allergen avoidance and other environmental control efforts are feasible and effective. Symptoms, pulmonary function test findings, and airway hyperreactivity improve with avoidance of environmental allergens. Removing even one of many allergens can result in clinical improvement.
Learn more about asthma triggers.
Medscape © 2023 WebMD, LLC

Any views expressed above are the author's own and do not necessarily reflect the views of WebMD or Medscape.
Cite this: Zab Mosenifar. Fast Five Quiz: How Much Do You Know About Allergic Asthma? - Medscape - Feb 13, 2023.