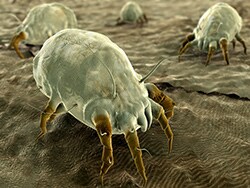 Placing mattresses, box springs, and pillows in mite allergen–impermeable encasing is the most effective way to prevent mite colonization. However, doing so is unlikely to lead to clinical benefit unless as part of a broader avoidance plan. While use of chemical products to reduce dust mite allergens is not recommended, several strategies have been shown to be effective.
Vacuuming at least weekly with a filter that captures mite-carrying particles is necessary to prevent buildup of mite allergens in homes with carpets. Humidity control should also be a mainstay, with a recommended 50% indoor humidity. Dust mites die when frozen; therefore, stuffed toys and other such items can be placed in a domestic freezer at -15 °C (5 °F) for at least 16 hours to decrease dust reservoirs. Regular (weekly) washing of bedding and clothing has been shown to effectively remove mite allergens and to kill mites. Most mites that are killed in the washing process die by drowning. Although higher temperature kills slightly more mites, this comes with an increased risk of scalding if home hot water is kept at 54 °C (130 °F) or higher.
Learn more about asthma environmental control.
Medscape © 2023 WebMD, LLC

Any views expressed above are the author's own and do not necessarily reflect the views of WebMD or Medscape.
Cite this: Zab Mosenifar. Fast Five Quiz: How Much Do You Know About Allergic Asthma? - Medscape - Feb 13, 2023.