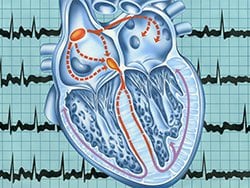 Cardiac arrhythmias, such as atrial fibrillation, are commonly found in patients with stroke. Similarly, strokes may occur concurrently with other acute cardiac conditions, such as acute MI and acute heart failure; thus, auscultation for murmurs and gallops is recommended. Carotid or vertebrobasilar dissections and, less commonly, thoracic aortic dissections may cause ischemic stroke. Unequal pulses or blood pressures in the extremities may reflect the presence of aortic dissections.
Symptoms alone are not specific enough to distinguish ischemic from hemorrhagic stroke. However, generalized symptoms, including nausea, vomiting, and headache, as well as an altered level of consciousness, may indicate increased intracranial pressure and are more common with hemorrhagic strokes and large ischemic strokes. Seizures are more common in hemorrhagic stroke than in the ischemic kind. Seizures occur in up to 28% of hemorrhagic strokes, generally at the onset of the intracerebral hemorrhage or within the first 24 hours.
An acute onset of neurologic deficit, altered level of consciousness/mental status, or coma is more common with hemorrhagic stroke than with ischemic stroke. Often, this is caused by increased intracranial pressure. Meningismus may result from blood in the subarachnoid space.
For more on the clinical presentation of hemorrhagic stroke, read here.
Medscape © 2018 WebMD, LLC

Any views expressed above are the author's own and do not necessarily reflect the views of WebMD or Medscape.
Cite this: Amy Kao. Fast Five Quiz: Test Your Knowledge on Key Aspects of Hemorrhagic Stroke - Medscape - May 10, 2018.