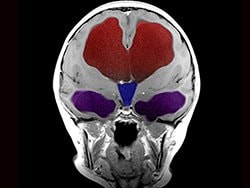 Placement of an intraventricular catheter for cerebrospinal fluid drainage (ie, ventriculostomy) is often used in the setting of obstructive hydrocephalus, which is a common complication of thalamic hemorrhage with third-ventricle compression and of cerebellar hemorrhage with fourth-ventricle compression. Ventriculostomies are associated with a risk for infection, including bacterial meningitis.
In patients with cerebellar hemorrhage, surgical intervention has been shown to improve outcome if the hematoma is >3 cm in diameter. It can be lifesaving in the prevention of brainstem compression. A meta-analysis of trials for surgical treatment of spontaneous supratentorial intracerebral hemorrhage found evidence for improved outcome with surgery if any of the following applied:
Surgery undertaken within 8 hours of ictus

Volume of the hematoma 20-50 mL

Glasgow coma score 9-12

Patient age 50-69 years
Endovascular treatment of aneurysms may be favored over surgical clipping under the following circumstances:
The aneurysm is in a location that is difficult to access surgically, such as the cavernous internal carotid artery or the basilar terminus

The aneurysm is small-necked and located in the posterior fossa

The patient is elderly

The patient has a poor clinical grade
Although vasospasm may be treated with intra-arterial pharmaceutical agents, such as verapamil or nicardipine, balloon angioplasty can be used for opening larger vessels. The combination of the two treatments appears to provide safe and long-lasting therapy for severe, clinically significant vasospasm.
For more on invasive treatment of hemorrhagic stroke, read here.
Medscape © 2018 WebMD, LLC

Any views expressed above are the author's own and do not necessarily reflect the views of WebMD or Medscape.
Cite this: Amy Kao. Fast Five Quiz: Test Your Knowledge on Key Aspects of Hemorrhagic Stroke - Medscape - May 10, 2018.