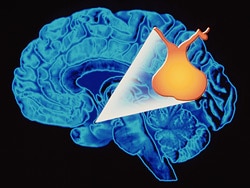 After pituitary surgery, patients should undergo continuous monitoring of fluid intake, urine output, and specific gravity, along with daily measurement of serum electrolytes. In patients who develop diabetes insipidus, administer parenteral desmopressin every 12-24 hours, along with adequate fluid to match losses.
To avoid hyperglycemia, volume overload, and overly rapid correction of hypernatremia, fluid replacement should be provided at a rate no greater than 500-750 mL/hr. A good rule of thumb is to reduce serum sodium by 0.5 mEq/L every hour.
Alternatives to desmopressin as pharmacologic therapy for diabetes insipidus include synthetic vasopressin and the nonhormonal agents chlorpropamide, carbamazepine, clofibrate (no longer on the US market), thiazides, and nonsteroidal anti-inflammatory drugs. Because of side effects, carbamazepine is generally used only when all other measures prove unsatisfactory.
In central diabetes insipidus, the primary problem is a hormone deficiency; therefore, physiologic replacement with desmopressin is usually effective. Use a nonhormonal drug for central diabetes insipidus if response is incomplete or desmopressin is too expensive.
For more on the treatment of diabetes insipidus, read here.
Medscape © 2018 WebMD, LLC

Any views expressed above are the author's own and do not necessarily reflect the views of WebMD or Medscape.
Cite this: Romesh Khardori. Fast Five Quiz: Test Your Knowledge of Diabetes Insipidus - Medscape - May 30, 2018.