Each week, we identify one top search term, speculate as to what caused its popularity, and provide an infographic on a related condition. If you have thoughts about what's trending and why, feel free to share them with us on Twitter or Facebook!
Trending Clinical Topic of the Week (June 23-29): Cannabis
News about the largest developed country to end a nationwide prohibition on cannabis, and a study revealing an association with psychosis, resulted in this week's top search term. By a vote of 52-29, the Canadian Senate voted to legalize cannabis. Although Prime Minister Justin Trudeau had expressed a desire to make marijuana legal by July, implementation of legalization will occur in October of this year. Of note, a recent study from Canada published in JAMA Psychiatry found that cannabis use directly increases the risk for psychosis in teens. The effect was observed in various study participants, not only in those with a family history of schizophrenia or a biological factor that increased their susceptibility to cannabis. This study is potentially concerning because a review published earlier this year revealed that many physicians are unfamiliar with current risks associated with cannabis use, and many also had only basic, dated knowledge about newer cannabis products. As medical and recreational legalization continue domestically and worldwide, doctors will continue to seek out information to help establish an educated, healthy, and—hopefully—honest dialogue with patients.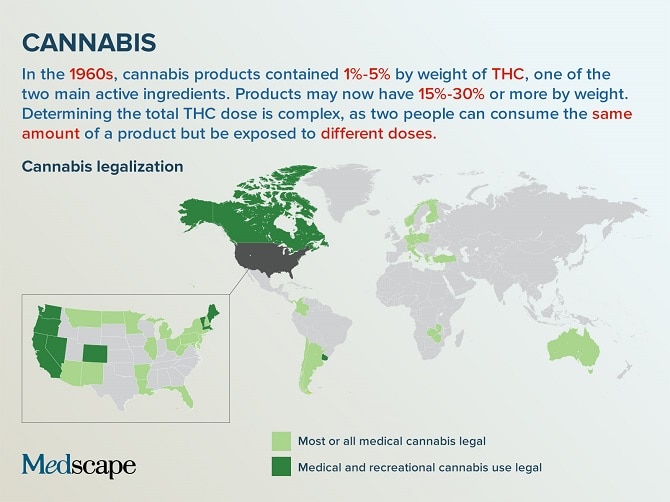 For more information on cannabis-related disorders, read here.
Medscape © 2018  WebMD, LLC

Any views expressed above are the author's own and do not necessarily reflect the views of WebMD or Medscape.
Cite this: Ryan Syrek. Trending Clinical Topics for June 2018 - Medscape - Jun 29, 2018.