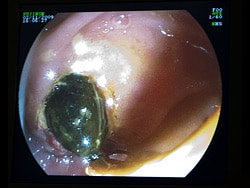 Black pigment gallstones occur disproportionately in individuals with high heme turnover. Disorders of hemolysis associated with pigment gallstones include sickle cell anemia, hereditary spherocytosis, and beta-thalassemia. In cirrhosis, portal hypertension leads to splenomegaly. This, in turn, causes red cell sequestration, leading to a modest increase in hemoglobin turnover. About half of all cirrhotic patients have pigment gallstones.
Women are more likely to develop cholesterol gallstones than men, especially during their reproductive years, when the incidence of gallstones in women is two to three times that in men. The difference appears to be attributable mainly to estrogen, which increases biliary cholesterol secretion.
Cholesterol gallstones are more common in women who have experienced multiple pregnancies. A major contributing factor is thought to be the high progesterone levels of pregnancy. Progesterone reduces gallbladder contractility, leading to prolonged retention and greater concentration of bile in the gallbladder.
Crohn disease, ileal resection, and other diseases of the ileum decrease bile salt reabsorption and increase the risk for gallstone formation. Ulcerative colitis is not associated with gallstone disease.
For more on the etiology and epidemiology of cholelithiasis, read here.
Medscape © 2018 WebMD, LLC

Any views expressed above are the author's own and do not necessarily reflect the views of WebMD or Medscape.
Cite this: Jamie Shalkow, Daniel Margain. Fast Five Quiz: Test Your Knowledge of Gallstones - Medscape - Jun 12, 2018.