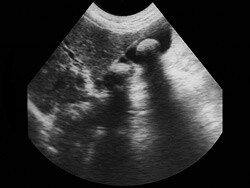 On the other hand, dilatation of the common bile duct on ultrasonographic images is an indirect indicator of common bile duct obstruction. Common bile duct dilatation is accurately identified, with up to 90% accuracy. However, this finding may be absent if the obstruction is of recent onset. The usefulness of ultrasonography findings as a predictor of common bile duct stones is at best 15%-20%. The generally accepted imaging findings of acute cholecystitis include thickening of the gallbladder wall (≥ 4 mm), enlargement of the gallbladder (long axis ≥ 8 cm, short axis ≥ 4 cm), gallstones or retained debris, fluid accumulation, and/or linear shadows in the fatty tissue around the gallbladder.
Acute cholecystitis is associated with polymorphonuclear leukocytosis. However, up to one third of patients with cholecystitis may not manifest leukocytosis.
Although not the initial study of choice in biliary colic, CT can be used in diagnostic challenges or to further characterize complications of gallbladder disease. CT is particularly useful for the detection of intrahepatic stones or recurrent pyogenic cholangitis.
Because of its cost and the need for sophisticated equipment and software, MRI is usually reserved for cases in which choledocholithiasis is suspected. Guidelines recommend MRI as a secondary imaging study if ultrasound images do not result in a clear diagnosis of acute cholecystitis or gallstones. 99m Tc HIDA scintigraphy is occasionally useful in the differential diagnosis of acute abdominal pain. Scintigraphy gives little information about nonobstructing cholelithiasis and cannot detect other pathologic states, but it is highly accurate for the diagnosis of cystic duct obstruction.
For more on the workup of cholelithiasis, read here.
Medscape © 2018 WebMD, LLC

Any views expressed above are the author's own and do not necessarily reflect the views of WebMD or Medscape.
Cite this: Jamie Shalkow, Daniel Margain. Fast Five Quiz: Test Your Knowledge of Gallstones - Medscape - Jun 12, 2018.