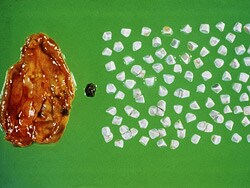 Ursodeoxycholic acid treatment can prevent gallstone formation. This has been demonstrated in the setting of rapid weight loss caused by very low-calorie diets or bariatric surgery, which are associated with a high risk for new cholesterol gallstones (20%-30% within 4 months). Administration of ursodeoxycholic acid at a dose of 600 mg daily for 16 weeks reduces the incidence of gallstones by 80% in this setting. A high recurrence rate after discontinuation of treatment is noted.
Recommending dietary changes of decreased fat intake is prudent; this may decrease the incidence of biliary colic attacks. However, it has not been shown to cause dissolution of stones.
In general, surgical treatment of asymptomatic gallstones without medically complicating diseases is discouraged. The risk for complications arising from interventions is higher than the risk for symptomatic disease.
In patients with gallbladder stones who are suspected of having concurrent common bile duct stones, the surgeon can perform intraoperative cholangiography at the time of cholecystectomy. The common bile duct can be explored using a choledochoscope. If common duct stones are found, they can usually be extracted intraoperatively.
For more on the treatment of cholelithiasis, read here.
Medscape © 2018 WebMD, LLC

Any views expressed above are the author's own and do not necessarily reflect the views of WebMD or Medscape.
Cite this: Jamie Shalkow, Daniel Margain. Fast Five Quiz: Test Your Knowledge of Gallstones - Medscape - Jun 12, 2018.