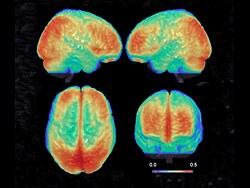 White matter hyperintensities are more common in individuals with bipolar disorder than in those without. Myelin pallor, tissue rarefaction associated with myelin and axon loss, and mild gliosis are pathological findings in regions of white matter hyperintensity. One study found that white matter hyperintensity burden appears to be associated with bipolar disorder. The study used MRI to measure total volume of all white matter hyperintensities in 45 patients with bipolar disorder and seven of their unaffected relatives compared with 32 healthy individuals. Results showed that patients with bipolar disorder type I (BPI) had a significantly higher mean total volume of white matter hyperintensities (P < .05) than healthy subjects. These findings suggest a possible structural marker for bipolar disorder.
The age of onset of bipolar disorder varies greatly. The age range is from childhood to 50 years, with a mean age of approximately 21 years. Most cases of bipolar disorder commence when individuals are aged 15 to 19 years. The second most frequent age range of onset is 20 to 24 years.
Bipolar disorder, especially BPI, has a major genetic component, with the involvement of the ANK3, CACNA1C, and CLOCK genes. First-degree relatives of people with BPI are approximately 7 times more likely to develop BPI than the general population. Remarkably, offspring of a parent with bipolar disorder have a 50% chance of having another major psychiatric disorder.
BPI occurs equally in both sexes; however, rapid-cycling bipolar disorder (≥ 4 episodes/y) is more common in women than in men. The incidence of bipolar disorder type II (BPII) is higher in females than in males. Most studies report a nearly equal male-female ratio in the prevalence of bipolar disorder; however, most studies also report a higher risk in women for BPII/hypomania, rapid cycling, and mixed episodes.
For more on the epidemiology and etiology of bipolar disorder, read here.
Medscape © 2018 WebMD, LLC

Any views expressed above are the author's own and do not necessarily reflect the views of WebMD or Medscape.
Cite this: Fast Five Quiz: Are You Prepared to See Patients With Bipolar Disorder? - Medscape - Jun 22, 2018.