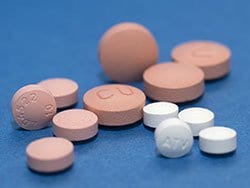 Even without a definitive diagnosis of hypertriglyceridemia from the workup, treatment of presumed dysbetalipoproteinemia may proceed, because other lipid disorders, such as type IIb hyperlipidemia produce similar elevations in cholesterol and triglyceride levels and will respond to the same medical interventions.
In general, lifestyle modifications are initiated before any pharmacologic therapy in the treatment of primary and secondary dyslipidemia, particularly in patients who are asymptomatic.
Because of the possibility of adverse effects and the question of whether the triglyceride level is an independent risk factor for atherosclerosis, many physicians use drugs to reduce the triglyceride level only when the level exceeds 500 mg/dL. Patients with triglyceride concentrations greater than 1000 mg/dL should receive diet and drug therapy and be closely monitored to prevent pancreatitis.
Pharmacologic options for hypertriglyceridemia may include statins, fibrates, niacin, omega-3 fatty acids, and other agents, depending on the clinical picture.
Niacin reliably and significantly lowers LDL cholesterol levels, which the other major triglyceride-lowering medications do not. Niacin increases high-density lipoprotein cholesterol and also lowers lipoprotein(a).
In managing secondary dyslipidemia, consider statin therapy for all patients, because these agents reduce mortality and coronary heart disease/atherosclerotic cardiovascular disease endpoints. High-potency statins at high doses have greater efficacy in reduction of cardiovascular events than low-potency statins or high-potency statins at low doses. However, patients treated with lipid-lowering medications should be carefully monitored for the development of myositis or liver disease. Statin monotherapy is not recommended for severe or very severe hypertriglyceridemia.
For more on the treatment and management of hypertriglyceridemia, read here.
Medscape © 2018 WebMD, LLC

Any views expressed above are the author's own and do not necessarily reflect the views of WebMD or Medscape.
Cite this: Romesh Khardori. Fast Five Quiz: How Much Do You Know About Hypertriglyceridemia? - Medscape - Sep 14, 2018.