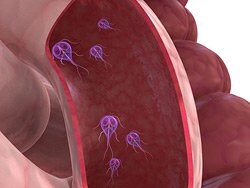 Giardiasis, caused by the protozoan parasite Giardia duodenalis (also known as Giardia lamblia or Giardia intestinalis), occurs worldwide. The transmission of infectious giardia cyst to human occurs by three routes: water, food, and fecal-oral contact. High-risk groups include infants, young children, travelers, immunocompromised people, and individuals with cystic fibrosis. Symptoms of chronic infection include chronic diarrhea, malaise, nausea, and anorexia. Weight loss, as extensive as 10 to 15 pounds in an adult, occurs in approximately 66% of symptomatic patients. Chronic sporadic diarrhea may continue for months. Postinfection lactase deficiency is also a common finding, occurring in 2% to 40% of cases. It presents clinically as an exacerbation of intestinal symptoms after the ingestion of products with lactose. Recovery from this condition can take several weeks, even after elimination of the parasite.
Clinical signs and symptoms of giardiasis include:
Diarrhea

Malaise, weakness

Abdominal distention

Flatulence

Abdominal cramps

Nausea

Malodorous, greasy stools

Anorexia

Weight loss

Vomiting

Low-grade fever (infrequent)

Various neurologic symptoms (eg, irritability, sleep disorder, mental depression, neurasthenia)

Urticaria
Extraintestinal manifestations are rare and include allergic manifestations such as urticaria, erythema multiforme, bronchospasm, reactive arthritis, and biliary tract disease. The etiology of such extraintestinal symptoms is likely a result of host immune system activation and cross-reactivity/molecular mimicry.
A small number of persons develop abrupt onset of explosive, watery diarrhea, abdominal cramps, foul flatus, vomiting, fever, and malaise; these symptoms last 3 to 4 days before transition into the more common subacute syndrome. Most patients experience a more insidious onset of symptoms, which are recurrent or resistant.
For more on the presentation of giardiasis, read here.
Medscape © 2018 WebMD, LLC

Any views expressed above are the author's own and do not necessarily reflect the views of WebMD or Medscape.
Cite this: Jamie Shalkow, Felipe Sarlat. Fast Five Quiz: How Much Do You Know About Common Conditions Associated With Diarrhea? - Medscape - Aug 07, 2018.