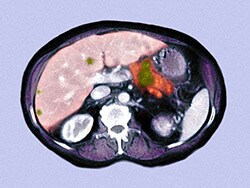 Pancreatic cancer initially metastasizes to regional lymph nodes and then commonly to the liver. Less often, it metastasizes to the lungs. Direct invasion may affect surrounding organs, including the duodenum, stomach, and colon. Any surface within the abdominal cavity may be affected through peritoneal spread. From this, ascites may occur, which carries a very poor prognosis.
Painful subcutaneous nodules may be a manifestation of paraumbilical subcutaneous metastases. Bony metastasis is rare. The brain is an uncommon metastatic site; however, when present, brain metastasis may result in meningeal carcinomatosis, or cancer that has spread to the meninges surrounding the brain and spinal cord. Its associated prognosis is very poor.
To learn more about the pathophysiology of metastatic pancreatic cancer, read here.
Medscape © 2018 WebMD, LLC

Any views expressed above are the author's own and do not necessarily reflect the views of WebMD or Medscape.
Cite this: Michael J. Pishvaian. Fast Five Quiz: Test Your Knowledge of Metastatic Pancreatic Cancer Pathophysiology, Diagnosis, and Treatment - Medscape - Sep 26, 2018.