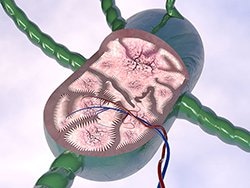 Peripheral adenopathy that is painless and slowly progressive is the most common clinical presentation in patients with low-grade lymphomas. Spontaneous regression of enlarged lymph nodes can occur in low-grade lymphoma, potentially causing confusion with an infectious condition.
Primary extranodal involvement and B symptoms (ie, temperature > 100.4°F [> 38°C], night sweats, and weight loss > 10% from baseline within 6 months) are not common at presentation in patients with low-grade lymphomas; however, they are common in patients with advanced malignant transformation (ie, evolution from a low-grade to an intermediate-grade or high-grade lymphoma) or end-stage disease.
Low-grade lymphomas may produce peripheral adenopathy, splenomegaly, and hepatomegaly. Splenomegaly is observed in approximately 40% of patients; the spleen is rarely the only involved site at presentation.
Patients with Burkitt lymphoma often present with a large abdominal mass and symptoms of bowel obstruction. Obstructive hydronephrosis secondary to bulky retroperitoneal lymphadenopathy obstructing the ureters can also be observed in these patients. Lymphoblastic lymphoma, a high-grade lymphoma, often manifests with an anterior superior mediastinal mass, superior vena cava (SVC) syndrome, and leptomeningeal disease with cranial nerve palsies.
For more on the presentation of NHL, read here.
Medscape © 2018 WebMD, LLC

Any views expressed above are the author's own and do not necessarily reflect the views of WebMD or Medscape.
Cite this: Emmanuel C. Besa. Fast Five Quiz: Test Your Knowledge on Key Aspects of Non-Hodgkin Lymphoma - Medscape - Aug 20, 2018.